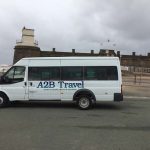 The coach hire service in Greasby offered by A2B Travel Coaches will never let you down whether you plan to hire a coach to travel with your family or in another group. It is because A2B Travel Coaches has a fleet of luxurious and well-maintained vehicles capable of accommodating groups of various sizes. The good thing about the coaches here is that they have enough room for the entire group's luggage. You can even choose coaches with reclining seats, climate control, and footrests designed to make everyone inside feel comfortable.
For your travelling group in Greasby, coach hire service from A2B Travel Coaches means that you'll be traveling in style, which is one way for you to contribute to saving the environment. You and your entire group will enjoy riding the coach in luxury as it is not only comfortable but also environmentally friendly. It produces less carbon per person per mile, making it not as harmful for the environment. With A2B Travel Coaches, you are also assured that the coach operators are safe, experienced and legally-compliant. With that, you never have to worry about your safety and everyone inside the coach. Also, you have a guarantee that the coaches have a modern and reliable vibe. They are clean and well-maintained plus they are perfect for any occasion.
Use a coach hire service in Greasby that prioritises the safety and comfort of their clients. Why don't you contact A2B Travel Coaches right away to find out more about their available coach hire? Their services are primarily built not only on reputation but also on professionalism and reasonable prices. They have an excellent track record because of their many years of experience. The good news is that you have plenty of choices as the company has an impressive line of well-equipped and modern luxury coaches – all of which are available at reasonable prices. Whether you plan to get their service for just a local outing or a faraway trip, you are assured that you can travel in style, safety, and comfort.