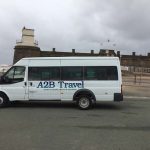 Get ready for summer fun with the best minibus hire in Broadheath. Whether you're planning a day trip, weekend jaunt or a longer vacation, choose A2B Travel Coaches. You won't be disappointed with our services, prices or the quality of our fleet. We also believe in sensible, practical and affordable pricing to suit your requirements. Our clients appreciate travelling in our well-maintained, clean, modern vehicles that are kept in pristine, hygienic conditions. We cater to any destination in the UK from the Wirral region. You can rest assured that every one of our drivers is experienced, licensed, insured and completely trustworthy. Their friendly yet professional approach helps to make your journey smooth and comfortable.
For both individual and corporate customers in Broadheath, the best minibus hire is available. Safety is top priority for us, and we comply with all the safety regulations required in our vehicles. Choosing a minibus is a smart decision when you want a good travel experience for smaller groups. These vehicles are available generally from 15-20 seater capacity, making them a convenient choice for family or friends groups, school or sightseeing trips, seniors, day trips, or a night out to dinner and a show. For corporates, they are a good option when travelling to a convention or an off-site meeting. Minibuses provide more legroom, storage space and seating capacity than vans. They are ideal for airport pick-ups and drops when people wish to travel together.
Our best minibus hire in Broadheath gives you several options to choose from. You may want extras such as a stereo or video system, dedicated steward/stewardess, fridge and drinks cooler or other amenities. Just inform us about your requirements and we can try to accommodate your needs. Contact A2B Travel Coaches for more information about our minibus hire. All our vehicles come with comfortable seats, air-conditioning, and safety measures such as a first aid kit. Most of our business comes to us via recommendations from satisfied customers, and this is a matter of pride for us. As a local business, we understand the prevailing trends and preferences. We are easy to locate and communicate with.