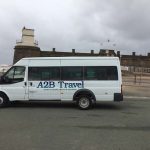 At A2B Travel Coaches we receive a lot of queries about mini bus hire in Wirral. It' s a very popular service and we're proud to have served so many small groups as they enjoy what are usually happy events. Many of these group outings are local day trips but some are for extended excursions. All of them receive the same excellent service. Sparkling clean mini buses that are consistently maintained to the highest level, comfortable seating and friendly drivers who are time and trial tested to always provide a safe experience. We always live up to our reputation for safe, clean and reliable service. At A2B Travel, we want you to have a joyful outing and remember us the next time mini bus service is needed.
Our fleet of minibuses at A2B Travel seats eight, twelve or sixteen passengers along with luggage area. In Wirral, minibus hire is useful to transport the family to and from the airport, groups and clubs on outings of special interest, convey a wedding party from one venue to another, be the designated driver for bachelor or hen outings. Our vans are available for hire as a shuttle service for guests from remote parking areas to event venues. Private youth sports teams can travel in style to and from important games and fans of all sports teams can travel to their alma mater for important rival matches. Many is the time we've been called upon to save the day so groups can travel together.
At A2B Minibus Hire in Wirral, many is the time we've been called upon to save the day so groups can travel together. Even a few hours to transport birthday party goers to and from the local laser tag facility removes a lot of stress for party planners. Why not contact A2B Travel today and find out how we can help with your next group outing or weekend getaway? We can give you an idea of the rate right away.  Our fleet of vehicles meet all industry standards mechanically and aesthetically. Drivers for our minibuses have undergone rigorous background checks but we don't stop there. Safe experienced driving in all conditions is a priority at A2B Travel Coaches.