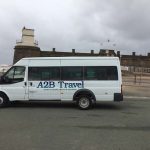 A2B Travel Coaches have 3 sizes of minibus in Wirral. Our minibuses seat 8, 12 or 16  which make them the perfect choice for day trips or weekender group travel. Your Alma Mater has a soccer match with their oldest rival. You and your old college buddies don't want to miss that. So you rent an 8 seater minibus from A2B Travel Coaches so you can all ride together. It's a three hour drive and our driver drops you at the stadium gates in plenty of time for the game. No long walks from outer parking lots and no parking fees. What a great three hour ride; talking about the old days, your jobs and families and just relaxing and catching up with each other's lives. Everybody is busy but a trip like this makes you realise how the important role these guys have played in your life.
Games over and it was the best time you've had in a long time. For all your mates that joined you in Wirral minibus week-end soccer getaway, it's been a long day. There was lots of yelling, eating and beer and now how grateful are you to see that minibus at the exit gate? Your overnight luggage is stowed safely on the bus and our excellent attentive driver transports you to the front door of your hotel. A good night's sleep and big breakfast together at the hotel restaurant and you're group is ready to be driven home. You've had plenty of time to reconnect as a group but also one on one with each individual. Everybody is glad to be home and back at their routine but plans for next year are already made.
At A2B Travel we can tell minibus in Wirral stories like this all day. Whatever size or type of group, depend on our clean and well maintained fleet to get you to your destination and back. Our professional drivers have an enviable safety record but their customer service skills make for a pleasant and worry-free trip. Contact A2B Travel Coaches and leave the minibus driving to us. Meanwhile, your band tunes up, your book club has a lively discussion about their "meet the author' book signing or everybody snoozes after a full day of sightseeing. Hire our minibus for a day, week-end or longer. We can help make overnight and dinner reservations for you too.