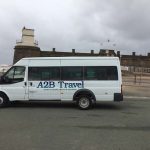 We offer minibus hire in Broadheath with accommodations for 8, 12 or 16 passengers. Bring your luggage, musical instruments, or equipment. We have safe and easily accessed storage for your belongings. Travel throughout the Wirral in comfort and leave the driving to our friendly professionals. If you want to get better attendance to your club outings and group events, tell them transportation is provided. People of all ages and stages of life enjoy relaxing in our comfortable seats with no traffic or parking problems. Instead of a reluctant 2-hour drive to participate, your group will enjoy chatting, reading, or listening to music. They can work or play as well because free WiFi is available on all our minibuses and coaches.
Day trips for sightseeing and special events are fun for everyone, especially pensioners. In Broadheath, minibus hire means they can enjoy concerts, plays, flower and garden shows and more without the usual deterrents to keep them home. They don't like to drive after dark or in bad weather, look for parking spaces or long walks to the entrance. Even one or two of those issues may be enough to discourage participation. No driving and door to door service is a complete game-changer for those who otherwise would have to stay home. If they doze off on the ride home after a busy day, nobody cares. When the group you are supervising is children, those same benefits apply. It's easier for chaperones to keep children safe with seat belts and keeping walks to the entrance short. 
We like to keep Minibus hire in Broadheath uneventful. We do that with regular maintenance and safety checks on our fleet of minibuses. Our professional drivers are also trained to handle emergencies and communication with our home base is always open. We will get you where you want to go safely and on time. If you've ever driven your tired cranky family and their luggage home from the airport in a fog with a chance of black ice then you can appreciate the benefits of our minibus hire. All you have to do is contact A2B Travel Coaches. The fun things in life, like a day trip, group nightclub outing or sporting event should not be riddled with obstacles. Choose us and getting there will truly be half the fun.